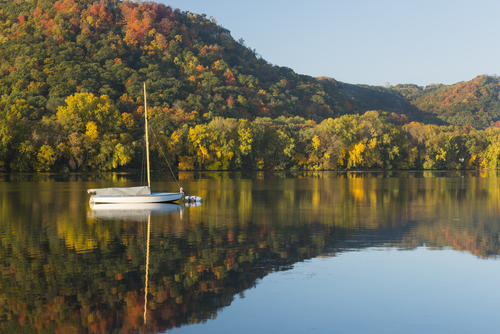 The Advantages of Boating in the Fall
Many boaters believe Labor Day Weekend to be the end of the boating season. However, that doesn't have to be true. With the crowds gone and the waterways open, it's advantageous to continue the boating excursions through the fall. Furthermore, be sure your clients secure their investments with a comprehensive Recreational Marine Insurance program.
Not only is the air crisp and clean, fog is much less common during the fall. Further, the winds pick up during this season, allowing boaters to take advantage of the power it can give to their vessels.
Further, with the summer tourist boaters gone, it gives boaters who live in the area a chance to navigate the anchorages with far less competition and distractions.
According to the Portland Press Herald, it doesn't matter whether your boat is propelled by sails or power, or whether you are racing or cruising. All it takes to enjoy boating in the fall is a little planning, both for yourself and for your boat. In the fall, you're not likely to have those days with highs in the 80s and just a gentle breeze. Think 60s during the day, which is no problem with a layer of fleece (or maybe long johns) under the fall jacket.
What's more, if your clients wanted to do an overnight boating trip, the temperatures will be cool enough to be comfortable but not too cold, provided they have a sleeping bag and warm clothes. With temperatures in the 40s at night, this is prime boat trip weather.
Lastly, for those who want to try to get a few more days in on the water just need to remember to double up the mooring pendants, add some chafe gear and remove canvas and other windage, including sails, if severe weather threatens, says the article. Venturing out in the fall just requires your clients to keep an eye out for the weather forecast!
At Merrimac Marine Insurance, LLC, we proudly serve the boater community. Our unique coverages seek to protect the professionals in this sector with quality and affordable policies. For more information about our operations, we invite you to contact our experts today at (888) 344-1687.