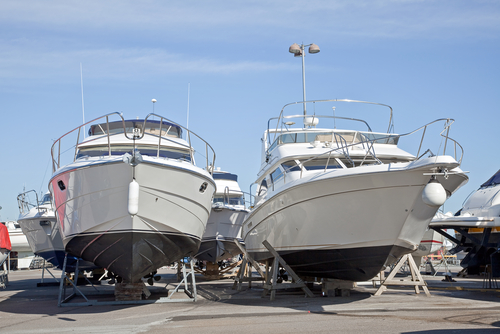 While owning and maintaining a boat may be a labor of love, it's not feasible to use it during the winter months when the water is icy and the temperatures drop below freezing. Therefore, it's time to start thinking about preparing your boat for winter storage. However, even when the boat is not in use, it still needs to be protected with a Recreational Marine Insurance Program. Here's how to keep your boat safe throughout the off-season.
According to Uncle Bob's Self Storage, before you haul your boat out of the water, you take it out for one more trip. Make note of anything that needs to be repaired or replaced before you winterize your boat. You'll have all season to do maintenance, and when spring comes, you'll be boating while everyone else is fiddling with sticky winches, torn sails, and tarnished brightwork. If there's any hull damage, fix it ASAP because cracks can get worse during storage.
Next, clean the boat thoroughly before putting it away in storage. Scrub it down to remove gunk, grime, barnacles, and buildup. Sea Ray recommends cleaning all your thru-hulls and strainers and opening the seacocks so any water can drain out. Leave plenty of time for everything to dry before it goes into storage. Empty out the refrigerator and replace mildew control bags so you aren't greeted with a pungent mildew smell in the spring.
Top off your gas tank and add a stabilizer to prevent condensation and corrosion. Be sure to run the engine for at least 15 minutes prior to storing your boat to ensure the stabilizer runs through the gas in the tank, fuel lines, and engine.
Lastly, remove electronics, including your battery and store it all in a warm, dry place. Clean the battery terminals to remove corrosion and grease them lightly. Give the battery a full charge using a charger designed specifically for a marine battery and check fluid levels, says the article.
At Merrimac Marine Insurance, LLC, we specialize in insuring the marine industry. We understand the unique risks that boat repairers face and strive to write policies to adequately cover you. For more information about our products and services, contact our experts today at (888) 344-1687.