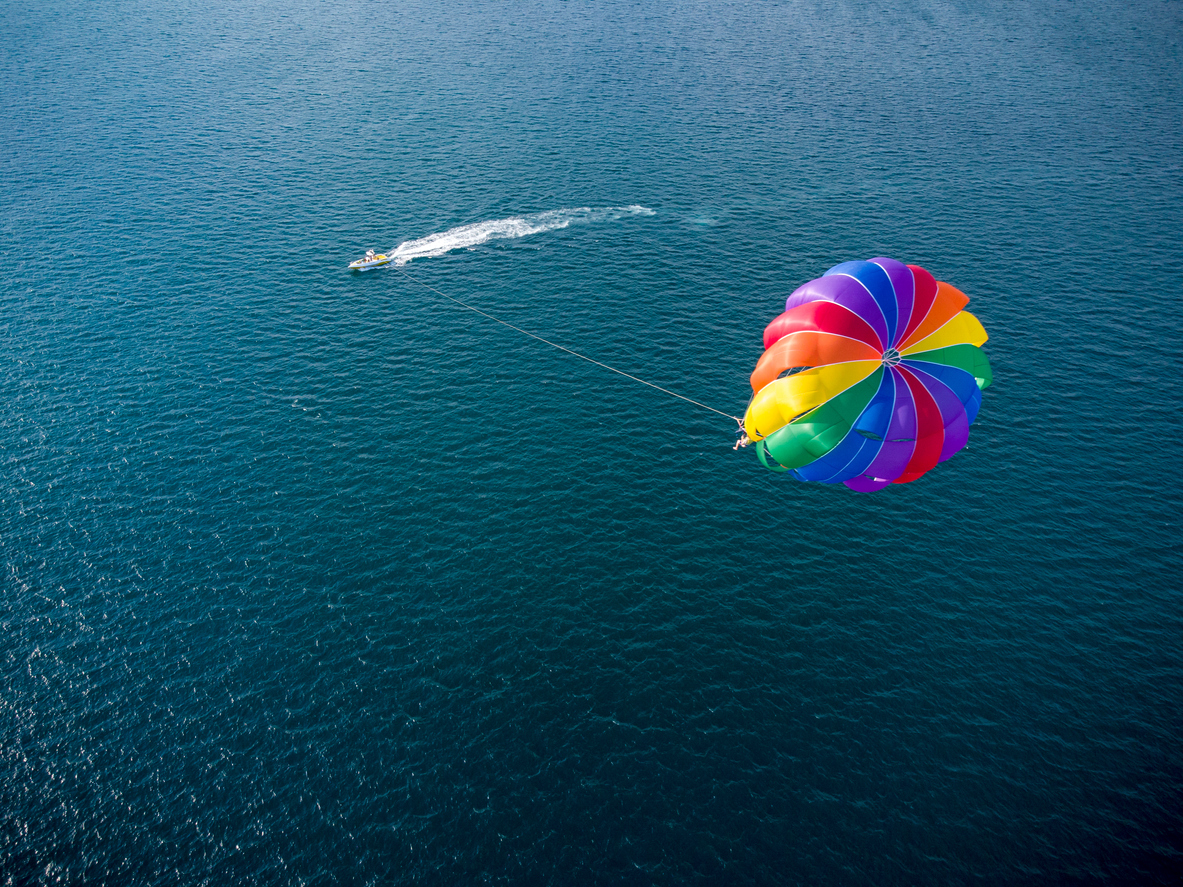 How to Start a Parasailing Business
You may have a client that wants to start a parasailing business, but they might not understand all the difficulties involved. Like all ventures, it requires careful planning, thorough research, considerable financial resources, and an unshakeable drive to succeed. And like the most successful endeavors, being genuinely passionate about the work is always good.
Of course, it would also help to cover all bases and form a preparation plan for any eventuality. That's where parasailing business insurance comes in. Smart business owners know that any venture entails a certain degree of risk. 
Parasailing insurance covers common risk exposures inherent in the venture, safeguarding the owner's personal and business assets. With the appropriate insurance, owners of parasailing services may have coverage for losses and damages that could cause the company to fail otherwise. 
What is a Parasailing Business? 
With that out of the way, what is a parasailing business? Parasailing is a leisure pursuit that combines elements of hang-gliding and parachuting in a single exhilarating activity. Similar to paragliding, it provides an enjoyable and exciting way to spend a few hours on the coast. 
As you might expect, a parasailing business offers customers the chance to pursue their favored pursuit without owning a boat or parasailing equipment. Like skydiving and scuba-diving businesses provide all the necessary gear, parasailing businesses supply customers with the vehicle and the equipment they need to sail the skies. 
How to Start a Parasailing Business 
If your client is interested in starting a parasailing business, there are a few essential steps to follow: 
Formulating a business plan 

Creating a legal entity

Registering the business 

Opening a business bank and credit card account 

Setting up an accounting team/department  

Obtaining permits and licenses 

Getting business insurance

Defining the brand

Creating a business website

Setting up a phone system
Let's take a closer look at each step: 
Formulating a Business Plan
It is the first step for starting any business. A business plan helps estimate startup and ongoing expenses, identify the target market, decide on pricing, and choose a business name, among other concerns. 
Creating a Legal Entity
It is when owners decide whether to run the business as a sole proprietorship, partnership, limited liability company (LLC), or corporation.
Registering the Business
Registering the business makes it a tax-paying entity under state and federal regulations. Business owners must apply for an EIN, available at no cost from the IRS website.
Opening a Business Bank and Credit Card Account
Opening dedicated business bank and credit card accounts help protect the owner's personal assets. Doing so also helps secure financing, better interest rates, and higher credit lines.
Setting Up an Accounting Team/Department 
It is necessary for keeping track of expenses and income. It is a crucial step for assessing the business's financial performance. 
Obtaining Permits and Licenses
It ensures conformance with local, state, and federal laws. It also protects the business against fines and possible closure. 
Getting Business Insurance
Business insurance is a requirement in most states. It also protects businesses against risk exposures and covered losses. 
Defining the Brand
It is when owners decide what the company stands for and how they want the business to be perceived. It is a crucial step in helping the company stand out from the competition.
Creating a Business Website
It helps focus the business and increase online visibility. It also gives the customer a reference point and reinforces the company's image as a legitimate enterprise. 
Setting Up a Phone System
It makes it easier to connect with potential customers. A phone system also helps automate common business processes and functions. 
Conclusion 
As you can see, there is much more to starting a parasailing business than setting up shop and advertising for customers. Hopefully, this simple guide will be helpful for your clients who are interested in getting such a business up and running. 
About Merrimac Marine Insurance
At Merrimac Marine, we are dedicated to providing insurance for the marine industry to protect your clients' business and assets. For more information about our products and programs, contact our specialists today at (800) 681-1998.