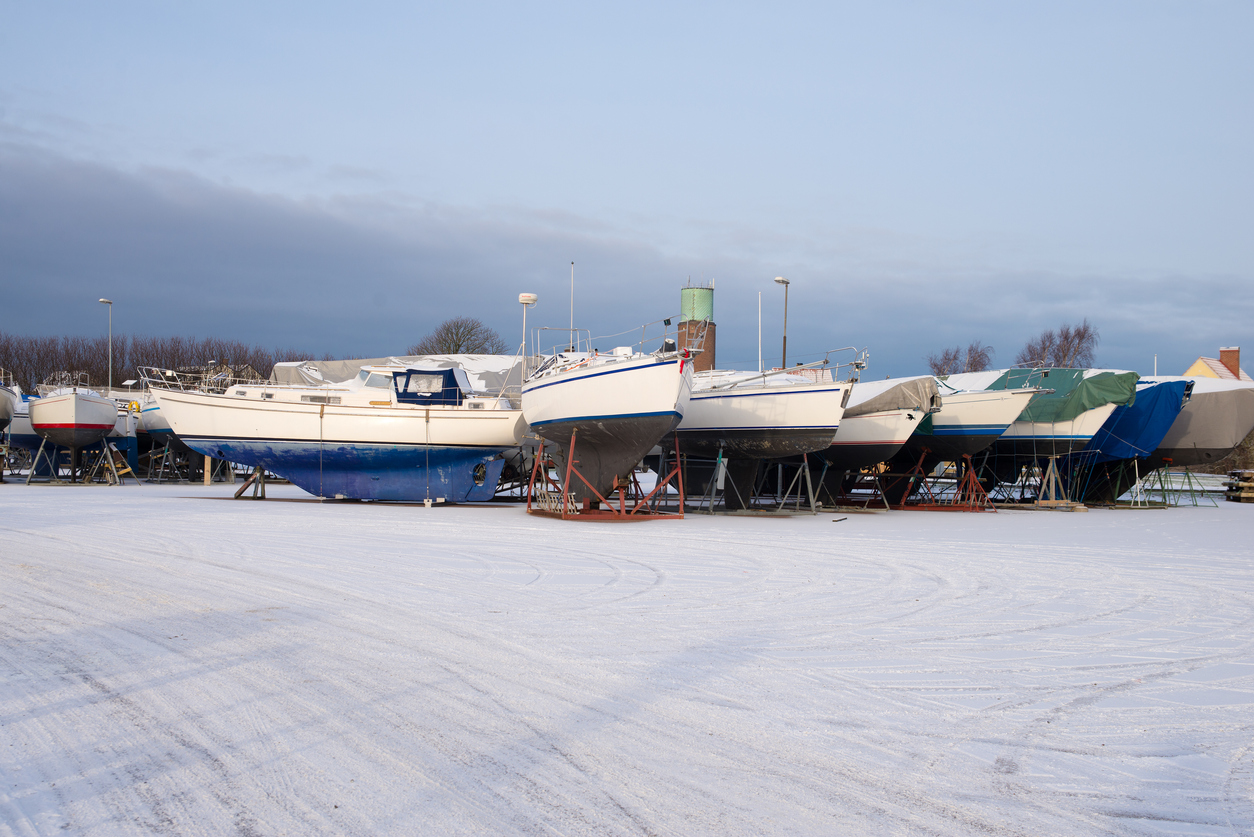 As Winter Approaches, Share These Storage Prep Tips
Not all recreational boat and personal watercraft (PWC) owners have the option of year-round enjoyment on the water. For those owners who reside in areas prone to harsh winter weather, storage of their prized investments must be considered. In these locales, businesses that rent watercraft must also take preparation steps for the winter months, ensuring that their crafts are ready for the next spring and summer seasons. Preparation for storage is a risk management strategy, just like personal watercraft rental insurance is for protecting business assets. Here are storage prep tips to share with your clients before the winter season arrives.
Storage Considerations for PWCs
Boat owners typically have a range of choices when it comes to winter storage of their vessels. Boat owners can opt for in-water storage at a marina or may prefer to place their vessels in storage facilities out of the water. Out-of-water storage can be either on dry land or racked in a storage building.
These same choices do not apply to PWC owners. In almost all cases, PWCs are stored out of water, either in a temperature-controlled building or trailered and parked on a solid surface. Rental operations may have several PWCs that need winter storage, so ensuring that there is enough room for the entire fleet is critical. Now is a good time to check up on personal watercraft rental insurance policies as well – before winter storage takes place.
One Last Day on the Water
It is recommended that boat and PWC owners take their craft out on the water one last time before putting them up for winter storage. In addition to enjoying a final day on the water for the season, this trip can reveal any issues that need correcting before storage begins. Inspecting the vessel thoroughly after the trip is over is also a good practice.  Perform all needed repairs and fluid changes before storage, as many problems can grow worse in cold weather — potentially causing expensive damage.
Exterior Prep for Storage
PWCs in rental fleets represent significant investments on the part of business owners. Protecting those investments with personal watercraft insurance and careful pre-storage preparation is key. Preparation begins with the exterior of the vessel, and consists of:
Cleaning the hull, deck, and seating surfaces thoroughly.
Waxing the hull to prevent corrosion.
Draining any water from the hull.
Removing accessories such as electronics and storing them offsite.
Ensuring any storage compartments are dry and that all seals are intact.
Sealing any water intakes or other openings to prevent the intrusion of pests.
Finally, investing in a tight-fitting canvas or synthetic cover can keep debris and moisture from accumulating on the PWC during storage.
Interior Prep for Storage
Just like boats receive thorough preparation before winter storage, attention to detail can protect PWCs from the harshest of weather conditions. Interior preparation focuses on the powertrain and cooling systems. The following interior prep steps are recommended:
Flushing the cooling system and replacing with antifreeze to prevent damage to the engine.
Fogging the engine with fogging oil to prevent corrosion.
Flushing and changing engine oil with fresh fluids.
Lubricating steering components and other moving parts.
Disconnecting batteries just before the PWC goes into storage.
Security and Safety Considerations
Since many vessels will be left unattended during winter storage, it is a good idea to consider security. PWCs on trailers may be secured to eyebolts embedded in driveways or parking areas. Use good-quality chain and locks to secure the trailer to the ground and the vessel to the trailer. Locking trailer pins or axle locks can help keep criminals from driving away with your investment.
PWC rental fleets should also be secured in well-lit areas, either indoors or outside. Adding video surveillance systems supplements the protections afforded by personal watercraft insurance. Finally, check your stored vessels periodically during the winter.
For safety, all vessels should be secured with strapping to prevent shifting in floods or high winds. Quality nylon cam straps can be used, and this represents a sound safety investment any time a vessel needs to be stored over the winter. With these winter preparation steps, your PWCs will be ready for the next summer season with little or no after-storage maintenance required.
About Merrimac Marine Insurance
At Merrimac Marine, we are dedicated to providing insurance for the marine industry to protect your clients' business and assets. For more information about our products and programs, contact our specialists today at (800) 681-1998.