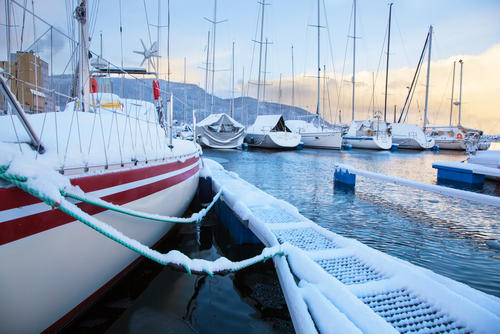 How Boat Owners Can Successfully Prevent Marina Pollution
As winter rapidly approaches, boat owners should start considering how they are going to prepare for the coming harsh winter and keep their respective marinas pollution-free. As these effects increase Marina Liability, share the following tips with your marina and recreational boating clients and to properly winter-proof boats and marinas alike.
According to New Hampshire Department of Environmental Services, marine engines stored in cold regions require winterization procedures to eliminate internal water freezing that results in the expansion of metal parts within the engine. Although marinas typically flush out the engines with antifreeze, it must be drained before the spring season begins the following year to avoid illegal discharge directly into marine waters.
Specialty winterization products.
There are various options when contemplating which product to choose to protect the vessel during the winter. While both ethylene glycol and propylene glycol are effective for winter engine protection, the latter is less environmentally aversive. Don't forget to flush the engine with antifreeze before leaving the boat for the winter, as well, and store any leftover materials properly to prevent pollution in the marina.
Prevent rust.
Rust can be more damaging than freezing pipes on a boat. To prevent the destructive rust from forming and causing irreparable destruction, use an internal and external rust inhibitor to protect idle parts during the offseason. These products can be found at any specialty store and are worth the investment!
Make the necessary repairs.
While it might seem counterproductive to complete repairs during the offseason, doing so will actually keep the boat in great condition. Plus, getting these done before the rush of spring and summer will minimize repair time and likely save money in the long run.
About Merrimac Marine Insurance
At Merrimac Marine Insurance, LLC, we specialize in marina and recreational boating insurance programs. Our all-inclusive solutions are specifically written to cater to the unique risks their operations face. To learn more about our products and services, contact our experts today at (888) 344-1687.