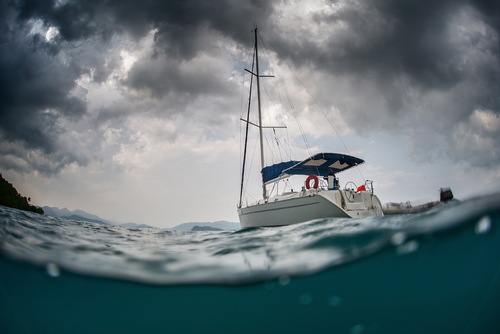 Boating in Inclement Weather
Even the most skilled skippers and captains can't always predict the weather. What might look like a clear, sunny day could easily turn into a sky of ominous clouds and torrential downpour. For these reasons, it's imperative that the proper safety precautions are taken prior to setting out to ensure the survival of everyone onboard should a storm encroach on the boat. Further, your clients should be safeguarded with the best Recreational Boating Insurance program to protect their vessels.
According to Boating Mag, one-third of all U.S. boating fatalities involve hunters and fishermen; bucking the trend begins with boat and motor maintenance, and upkeep of survival and navigational equipment, including radios, GPS, charts, PFDs, flares, flashlights, rain gear, whistles, distress flags, and water and food stores.
Keep these fool-proof rules in mind, as well.
Develop a float plan. Identify how emergency situations will be handled and make sure all of the radios and equipment are working properly. Stick to this plan in the event of an emergency and contact the Coast Guard immediately if the boat and crew are not able to manage the storm.
Tune into the National Weather Service upon departure to get updated weather information. If they announce a warning for small boats, return to shore immediately.
Wear a life jacket. While many are apprehensive about wearing them as they limit use of the torso and arms, there are sleeker, modern versions available now. Inflatable suspenders and belts that layer comfortably with clothing can be worn rather than the bulky vests.
In the boat was to capsize, do not swim away from it. Swimming exposes the entire body to potentially freezing temperatures and can cause hypothermia. Further, a boat is easier to locate by emergency rescue crews rather than one person in rough, choppy water. Attempt to climb the hull and wait for help.
At Merrimac Marine Insurance, LLC, we pride ourselves on our reputation among the insurance agency as the being the marine experts. We construct plans that are unique and tailored to the boating industry with unparalleled talent, expertise, and product knowledge. For more information about our products and services, contact us today at (888) 344-1687.