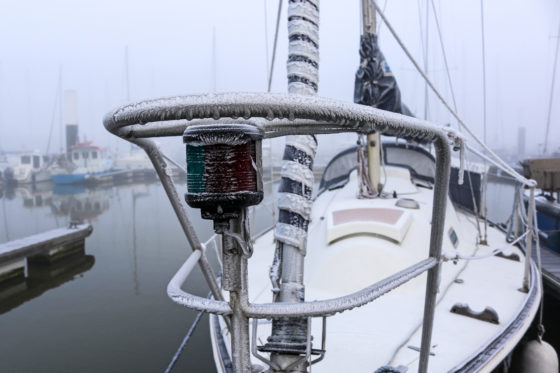 Cold Weather Boating Etiquette
While the weather may be cold, that doesn't mean your desire to get out on your boat has diminished. As there are fewer people and more room to explore without distractions, now is a great time to take your boat out. However, remember these simple considerations to maintain comfort and safety during your cold weather boating excursions, and protect your investment with a Recreational Boating Insurance Program.
Dress for the weather.
Wear warm, insulated layers when you're out on the water. While it might be uncomfortable to wear thick layers, it will keep you warm should you end up in the water. For this reason, also consider an insulated float coat.
Trim.
During freezing temperatures, water below the surface stays warmer. For that reason, it's a good idea for owners of outboards to leave the engine trimmed down at the dock if air temperatures are expected to get frigid. A trimmed-up engine holds water, which, if it freezes, can cause all kinds of damage, explains Boating Mag.
Plan for the worst.
Even experienced boaters face mishaps in the dead of winter. If for any reason you end up in the water, don't rely on the killer tradition of floating in place while submerging your head under the water to adapt to the cold. This will only lead to hypothermia and death even faster. Instead, tread water and signal for help immediately.
Take it easy.
Approaching ice waters at full speed will scuff your boat's gelcoat. Take it slow, be cautious of frost, and ease into ice waters with caution and plenty of patience.
About Merrimac Marine, LLC
At Merrimac Marine, LLC, we are committed to solving your clients' marine insurance needs. Our comprehensive coverage can be tailored to manage each unique risk exposure at a competitive rate. For more information on protecting your clients' needs, contact our knowledgeable specialists today at (888) 344-1687.