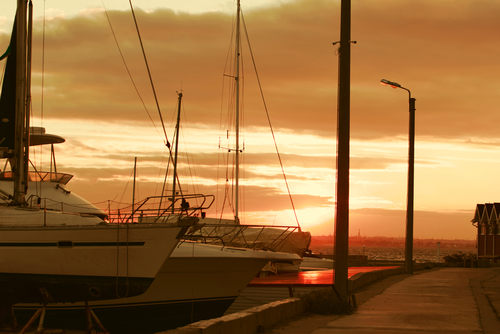 Exploring Common Yacht Club Risks
In this series of articles, we're going to explore the common risks that marinas and yacht clubs face. From physical loss to minimizing liabilities and securing the right Marine and Yacht Club Insurance package, there is no shortage of exposures for these businesses. Share the following information with your clients to protect their bottom line and reduce unnecessary liability risks.

As the controller of the marina and yacht club, your clients are responsible for protecting the vessels in their harbors. However, boats are often robbed and even stolen, causing legal and financial headaches for these operators.
In addition, valuable items such as decor, trophies and even fine art can be stolen from marinas and yacht clubs. As Zurich Insider explains, it may not be feasible for the smallest clubs to invest in state-of-the-art security measures, but some relatively simple steps can make it more difficult for thieves, including ensuring there is good quality perimeter fencing and security lighting, and that doors are secured with good quality padlocks.
Simple physical security can prevent even the most determined thieves. Taking proactive steps to mitigate this can save your clients thousands – if not more – in physical loss and damages.

Management and officer liabilities.
Depending on the size and structure of the yacht club, these management liabilities vary. However, some of the most common claims and exposures lie in the following, according to Zurich:
Breaches of health and safety legislation – including food hygiene laws if food and drinks are. prepared on the club's premises.
Claims by employees – for example sexual harassment, racial discrimination or disability discrimination
Professional liability claims.
Based on the activities used to generate revenue, and the types of services and events the yacht club provides, these liabilities can stack up. For example, food contamination and liquor liability coverage, business interruption coverage, and more are required in order to be adequately protected. If your clients believe their operation has been undervalued, or if they don't have the proper coverages, point them in the right direction to the policies they are missing.
About Merrimac Marine, LLC
At Merrimac Marine, LLC, our focus is solely on the recreational and commercial marine industries, with our clients ranging from middle-market to large global companies within the specialized marine industry. Our experts are here to assist you in safeguarding your clients against risk and expanding your footprint in this market. For more information, contact us today at 800.681.1998.