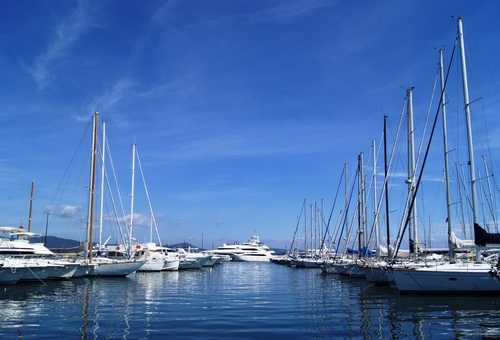 Marina & Yacht Club Risks: Preventing Boat Theft
In our previous blog post, we covered some of the common risks that marinas and yacht clubs face. As physical loss can be one of the most detrimental exposures for these organizations, we're going to take a closer look at how your clients can minimize petty and grand theft in their yacht clubs. Even more importantly, secure their businesses with the right Marine and Yacht Club Insurance package.

Install security cameras.
Whether these cameras are real or faux, they are a serious crime deterrent. Would-be thieves likely don't want to risk their illegal activities being caught on tape, so they'd rather skip the crime altogether. Be sure to display how crimes will be punished and notify passersby of the use of security cameras. These are simple to install, cost effective, and can provide some peace of mind for your clients.
According to The Marine Surveyors, the marina, yacht club or storage location of the boat is an important part of theft prevention. Basic security measures include locked gates, security guards and lights. Simple ignition system protection devices, hidden battery switches and unavailable ignition keys make stealing the boat more difficult. Professional thieves are going to take what they want but the joy rider or opportunistic drunk can be thwarted and are far more common.

Team effort.
Your clients should remind boat owners that simple measures on their part can deter thefts, as well. Locking gates behind them, keeping eyes peeled for suspicious activity such as lingering, and locking their doors can prevent theft from occurring in the first place. A team effort goes a long way in preventing theft.

Trailerable boats.
These common types of watercrafts are easy targets for thieves, as well. If your clients have these in their marinas, extra precautions should be taken.
This type of theft is best prevented by storing the boat in a safe place, locking gates, blocking them in with other vehicles, motion sensor lights, cameras, trailer locks and other visible theft deterrent devices that will keep the thieves' eyes moving to another boat. Many of these vessels are stolen from temporary storage locations that provided an easy target, explains the article.

About Merrimac Marine, LLC
At Merrimac Marine, LLC, our focus is solely on the recreational and commercial marine industries, with our clients ranging from middle-market to large global companies within the specialized marine industry. Our experts are here to assist you in safeguarding your clients against risk and expanding your footprint in this market. For more information, contact us today at 800.681.1998.