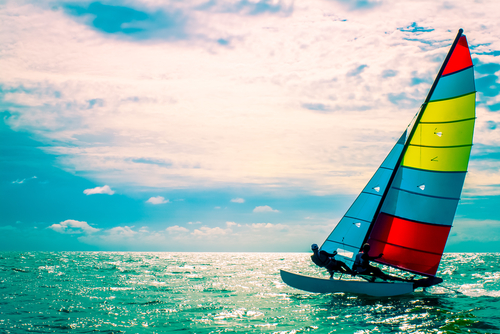 A new announcement by the National Marine Manufacturers Association (NMMA) has revealed the positive impacts of the boating industry on the economy. It was announced that the jobs, businesses, and profits generated exceed $121 billion dollars each year. As these figures continue to climb and more people adopt the pastime, ensure your clients are covered by a Recreational Boat Dealers Insurance Program, especially during peak sale seasons.
NMMA stated that recreational boating in the U.S. has an annual economic value of $121.5 billion, with 964,000 induced, direct and indirect American jobs, 338,526 direct jobs at 34,833 businesses, and $83 billion in direct, indirect and induced spending each year.
Another benefit of this development is the increase in new boat sales. Your clients are likely to be acquiring more and more customers as sailboat sales alone increased almost 30 percent in 2012. Further, powerboat sales have also increased an average of 10 percent, as well.
Boating participation has also increased. The study found that 37.8 percent of the total adult U.S. population participated in recreational boating at least once during the year. While this activity has slowly increased since 2006, this is the biggest spike to date.
So, what's ahead for the recreational boating industry? As the sale of various types of boats continues to increase, the numbers are projected to steadily grow. Thom Dammrich, NMMA president, states "Summer is a peak selling season for recreational boats, accessories and services throughout the U.S. as people look for ways to disconnect from the daily grind and enjoy fun times on the water. New boat sales have historically been a barometer for the U.S. economy and the steady sales increases we're seeing is being reinforced by the slow uptick in consumer confidence, housing and spending. As economic growth continues, we anticipate sustained steady growth through the remainder of 2013."
At Merrimac Marine Insurance, LLC, we pride ourselves on our reputation among the insurance agency as the being the marine experts. We construct plans that are unique and tailored to the boating industry with unparalleled talent, expertise, and product knowledge. For more information about our products and services, contact us today at (888) 344-1687.