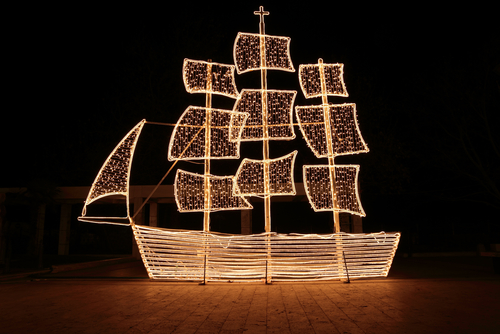 The holidays are upon us and thus, the boat parades are starting up. While your clients may want to show off their boat with a beautiful light display for the marina parade, there are some tips you should share with them in order to preserve everyone's safety.  In addition, they should be equipped with Recreational Marine Liability Insurance to protect against the variety of risks associated with these events.
Powering Up
The way in which the lights are powered is incredibly important. As additional electricity can raise the risk of fires and electrical shock, it is critical to examine the lights for any frayed wires or broken bulbs. Further, Boat U.S. states to wrap plug connections tightly between strands with high-quality electrical tape, and don't overload circuits. Bear in mind that excessive light strands should never be crammed into one power source. However, don't use a portable generator as they die quickly and don't want to risk carbon monoxide poisoning.
Light Attachment
Without walls to connect to, hanging lights can be tricky. However, wire ties and clear tape can assist with this. Hang lights above deck level to avoid water splashing on them and to stay out of the way when docking.  Next, ensure that light connections steer clear of metal support structures and never obscure navigation lights. Further, lights should be carefully placed so as to avoid impeding the driver's sight lines. Lights should be decorative and beautiful but never compromise on safety.
Boat Stability
The displays shouldn't affect the performance or stability of the boat. As harsh winds can compromise tall displays and disrupt the stability of the vessel, be mindful of the decoration placement. Be sure to stay on top of weather forecasts and adjust displays as necessary.
At Merrimac Marine Insurance, LLC, we know the recreational marine industry inside and out. We strive to provide protections against the various segments of risk that the professionals in this industry face each day. For more information, contact our experts today at (888) 344-1687.