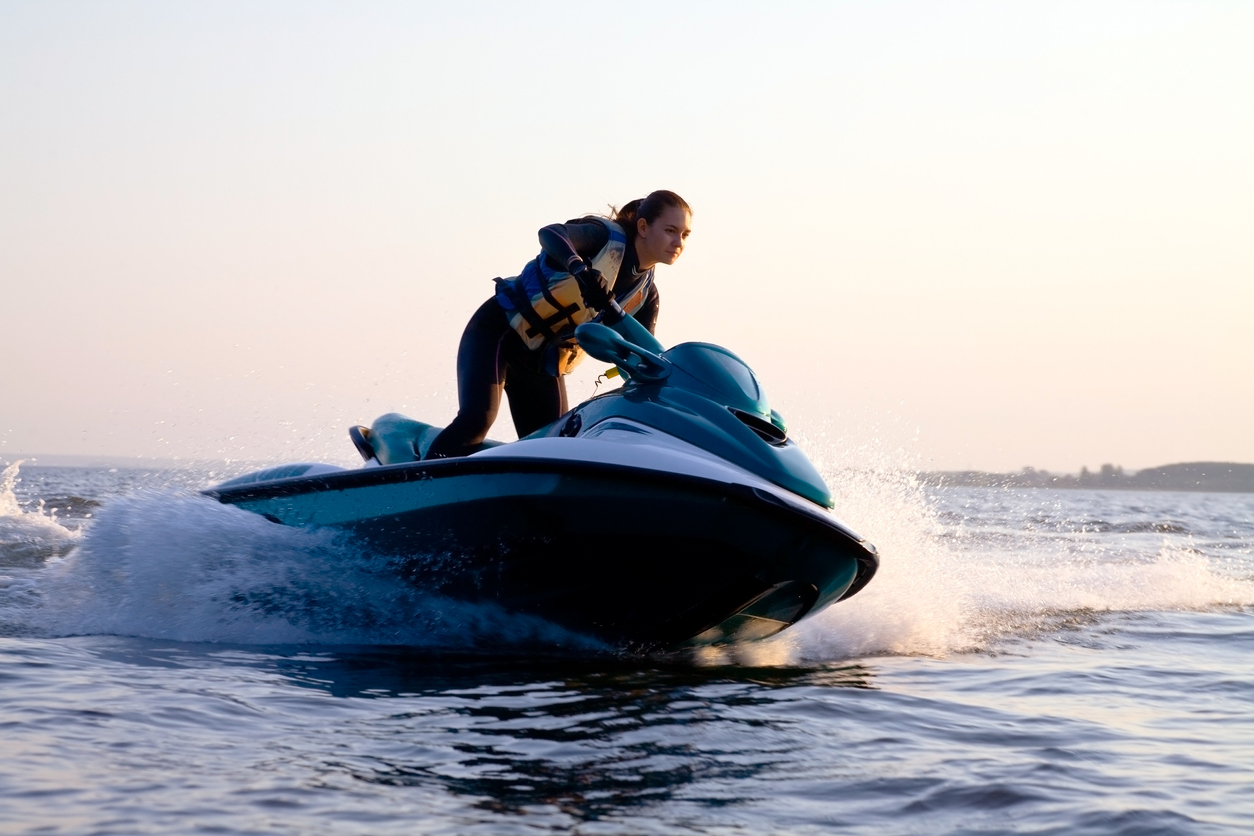 Safety Tips on a Jet Sky
There are some safety tips you should know about jet skis that can help people avoid injury or death when riding them. According to Statistica, there were 5.42 million adults and kids who engaged in jet skiing in 2017. But just like any other sport, jet skiing also comes with risks. 
People may get harmed from jet skiing. Every year, jet skis cause hundreds of watersports accidents and deaths. It happens due to the boat's protective shell, operator inexperience or inattention, riding at fast speeds, lack of training, and not following watercraft rules and safety measures. 
Advising your clients who love watersports to get PWC insurance is one way of keeping them safe and equipping them with a tool to combat the risks. Aside from that, this article will give you some jet ski safety tips you can share with your customers.
Jet Ski Safety Tips
A jet ski ride can be one of the most fun water activities you can engage in during the summer. But there are many risks and precautions to consider before hopping on a jet ski, so make sure your client is well-informed about them. Here are some tips you can share with your clients so they can enjoy their next jet ski adventure safely and stress-free.
Always Wear a Life Jacket
Jet ski facilities have a lot of life jackets, and they ensure that all of their jet skiers wear one before they take off on their jet ski trip. A life jacket must be fitted snugly to your clients and should fit them properly. Life jackets that are too big or too small will not function as effectively as life jackets that are the right size.
Keep Distance from Nearby Jet Skis and Other Watercraft
Maintaining a safe distance from other jet skiers and all other watercraft will allow your client to stop in case of an emergency. In addition, you should tell them not to wake, jump, splash, or pass close to any other vessels. A jet ski facility's rule stipulates that it is best to keep jet skis at least 200 feet from anything on the water.
Stay Alert and Aware of the Surroundings 
Instruct your client to watch nearby swimmers, jet skiers, boats, and other vessels. Be careful not to get tunnel vision! People with tunnel vision only see what's directly in front of them and don't notice what's next or behind them. To prevent accidents, remind your clients to always look in all directions.
Check the Speed 
Encourage the client to maintain a slow speed until they reach open water and are away from shore. In emergencies, slow down or stop safely. There is usually no speed limit when renting jet skis, but users must drive responsibly to avoid accidents.
Never Drink and Drive
Alcohol consumption can cause boating and jet skiing accidents. Alcohol impairs your client's judgment on a boat or jet ski just as it does in a car. That is why every state has laws against boats and jet skis operating under the influence. 
Advise your Client to get PWC Insurance
A Jet Ski, Sea-Doo, or WaveRunner can be a lot of fun on the water. As with any moving vehicle, they're prone to accidents, so it's wise to insure your clients properly.
Homeowners' insurance does not generally cover personal watercraft (in rare cases, the coverage limits are low). PWC insurance protects these vessels.
Personal watercraft insurance protects your client and anyone they have permitted to operate their boat or jet ski in the event of incidents that result in:
An injury to another person's body.

An uninsured operator of a watercraft causes them bodily harm.

Legal costs if facing a lawsuit after an accident. Most policies cover water sports liability, which covers risks associated with activities such as water skiing.

Damage to another watercraft, a boat, or a dock.
The deductibles and liability limits may vary depending on the policy and the company. There may also be coverage available through PWC for:
A personal watercraft was stolen.

An accident that may require towing of the watercraft.
Additionally, you can offer coverage for trailers and other accessories. They may be able to qualify for a multi-boat discount on their insurance if they have several personal watercraft. 
About Merrimac Marine Insurance
At Merrimac Marine, we are dedicated to providing insurance for the marine industry to protect your clients' business and assets. For more information about our products and programs, contact our specialists today at (800) 681-1998.