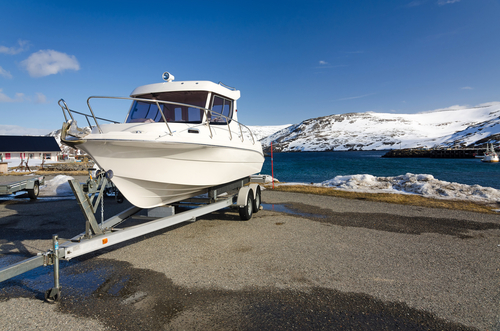 Top 5 Boating Safety Equipment Necessities
As your clients are aware, boating is an exhilarating hobby but it is not without its perils. While December and January are traditionally off-season months for the industry, now is the best time for your clients to recap their vessel's safety equipment and prepare it for spring. Even more importantly, however, is ensuring your clients uphold their Recreational Boating Insurance Programs throughout the seasons to save money and protect their investment year-round.
#1: Flares
These should be replaced every three years. This is often one of those items that is overlooked, but these are a necessity when your clients need them. Suggest that your clients check the expiration dates on each. If they are set to expire during mid-season, boaters should set a reminder to replace them.
#2: Fire Extinguishers
Check the pressure gauges on all of your boat's fire extinguishers to make sure they read in the green "full" zone. If any of them appear to have been even partially discharged, replace them with Coast Guard-approved fire extinguishers. Give existing extinguishers a good shake to break loose the fire-retardant powder that might have become caked at the bottom, says Boating Mag. Lastly, be sure the bracket that holds the extinguisher in place is in good working condition, as well.
#3: Life Jackets
Make sure the material, buckles, and straps are all in good enough condition to use. Replace damaged or old ones with modern ones and inspect the Carbon Dioxide levels in inflatable jackets.
#4: Test the Bilge Pump.
According to the article, you might have to wait until spring commissioning for this, but as soon as the boat is ready, stick your head in the bilge compartment while someone presses the bilge pump switch to make sure it runs. While you're there, lift up on the float on the automatic bilge pump switch to ensure that it turns on the pump. Check all of the wirings and connectors to verify that they are corrosion-free.
#5: Inspect the Ground Tackle.
Inspect the anchor, chain, and shackles for damage. If any of these have suffered extreme corrosion damage, replace them immediately.
About Merrimac Marine, LLC
At Merrimac Marine, LLC, we are committed to solving your clients' marine insurance needs. Our comprehensive coverage can be tailored to manage each unique risk exposure at a competitive rate. For more information on protecting your clients' needs, contact our knowledgeable specialists today at (888) 344-1687.