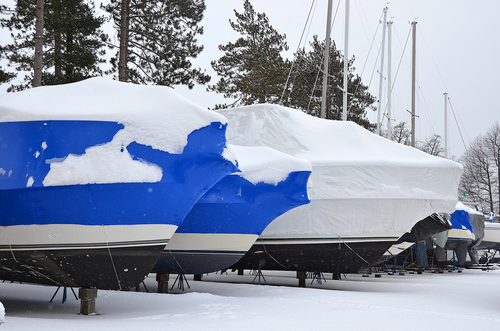 Winter Tarp Considerations for Boaters
Winter is steadily approaching, which means the harsh weather is right around the corner. With plunging temperatures and freezing waters, your clients are likely going to store their boats for the season. Therefore, in order to reduce their Recreational Boating Liability, share the following tarp tactics with them to secure their investments.
Be mindful of sharp edges.
Sharp edges on boats can lead to puncture holes in the tarp, which will allow in moisture and even pesky creatures seeking shelter from the cold. To prevent this, protect the sharp edges with old rags or carpet fragments and secure with duct tape prior to putting on the tarp. Common problem areas include antenna mounts, windshield frame corners, burgee poles, and rocket launchers, according to Boating Magazine.
Allow easy access.
Attaching the tarp to the bottom of the boat is effective, but it may prove difficult should your clients choose to access the boat for winter projects. Instead, your clients can fill jugs of sand and attach them to the grommets of the tarp to allow easy access during the winter.
Watch for low spots.
A low placed tarp has a greater chance of collecting water, sagging, or ripping over the duration of winter. The best way to prevent this is to place a stepladder inside the low areas of the vessel to create a more even surface with the tarp.
About Merrimac Marine Insurance
At Merrimac Marine Insurance, LLC, we understand the unique risks that marinas face. We work with more than 15 top-tier admitted and non-admitted carriers to secure the coverages that specifically address the various exposures recreational marine insurance customers face. For more information about our products, contact us today at (888) 344-1687.