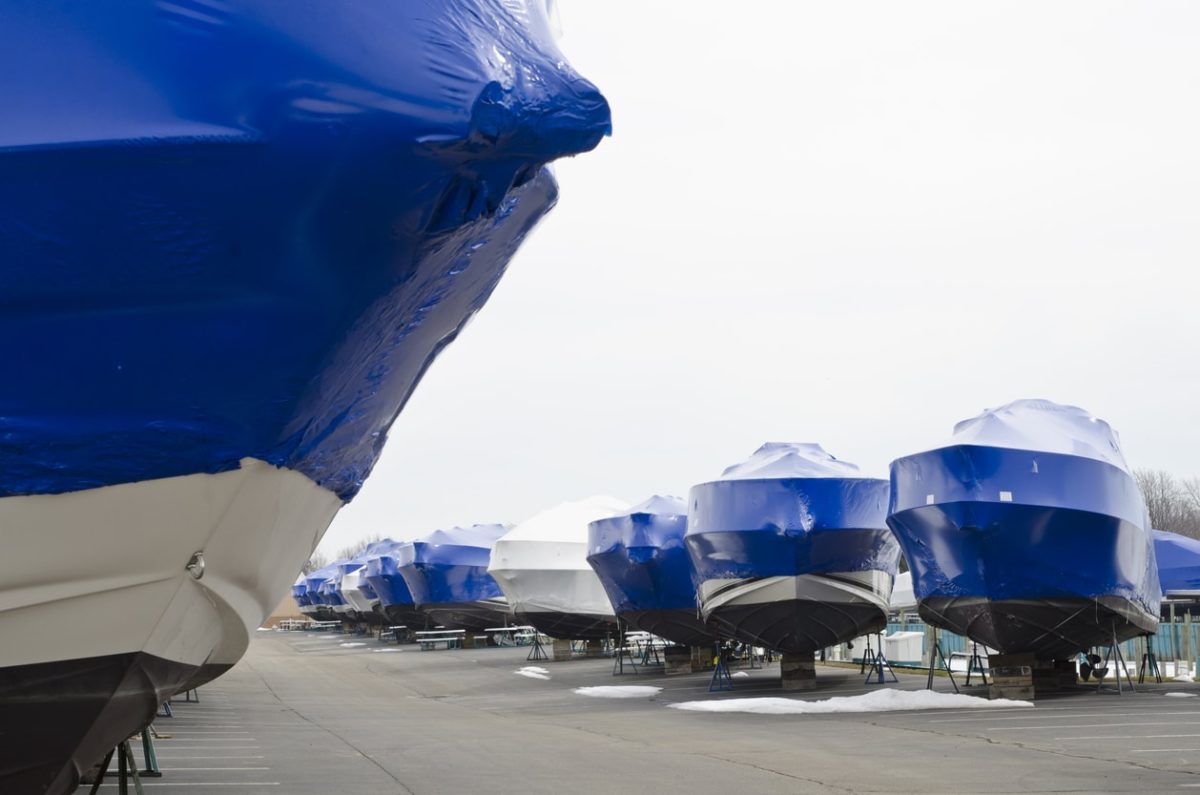 As Winter Draws Nearer, Share These Boat-Winterization Tips With Your Clients
Boats represent significant investments for your clients. Used for recreation and commercial endeavors, boats require care and upkeep throughout the year to maintain their performance and value. Although many of us think of boating season as occurring during the warm months of the year, the maintenance of boats continues well into the winter months. Boat and marina insurance helps to cover the expenses associated with damage to prized vessels, but these solutions are not the only risk management steps boat owners can take. As winter draws ever closer, it can be valuable to share boat winterization tips with your clients. Here are some tips and techniques designed to protect boating investments even when the temperature drops.
Choices to Consider: In-Water or Dry-Stack Storage
When it is time to put away your boat for the season, the type of storage you select influences the winterization steps to be taken. Boats may be stored indoors or outside at marinas, and most marinas offer several storage options to their boat-owning clients. Boat slips, sometimes referred to as "wet slip leases", are incredibly popular and cost-effective. In-water storage remains the most popular option, but may not provide adequate protection from severe weather. Indoor options, however, tend to offer better protection from the elements. If boats are stored in a dry-stack or boat lift, these options are typically covered overhead by a roof system, adding to the protection level of your boating investment. Most marinas carry some form of comprehensive marina insurance to help protect clients' vessels from damage during storage; ask your marina for specifics. 
In-Water Boat Storage: Winterization
When a boat is stored over the winter in a boat slip, certain measures must be taken to protect it. There are three primary considerations for in-water winterization: keeping ice away, covering exposed decking and superstructures, and performing regular inspections.
Boat owners in warm-weather states like Florida and California may enjoy their craft year-round. For boat owners in most other states, however, winter storage of boats is all but mandatory. In northern states, ice can represent a sizeable risk to boats. Keeping the ice away protects the hull of any boat, including powerboats and sail-powered vessels. Some marinas offer de-icing systems or water bubblers to keep water moving around the stored hull. If your marina does not offer a de-icing system, investing in a single-slip de-icer makes sound financial sense.
Covering the decks during winterization prep helps to protect surfaces from harmful UV rays as well as preventing ice and debris build-up. There are many boat cover options ranging from simple canvas or nylon tarps to custom-fitted covers for the helm, seating, and deck areas. Some marinas even offer a shrink-wrapping service for stored boats, encasing the entire vessel in a tough element-resistant plastic material. If it isn't possible or desirable to cover the boat, it is a good idea to periodically brush away accumulated snow and debris to prevent damage. 
Visiting the boat during the winter months is a good idea. Routine inspections of the boat can pinpoint storage problems before they can cause expensive damage. Plan on visiting the storage area at least once a month or more often if severe winter weather is experienced. 
Winterizing Boats for Indoor Storage
For boat owners who choose indoor storage, whether in a warehouse or covered dry-stack location, winterization is just as important. Boat owners do not usually have to worry about ice build-up, but debris can still accumulate on decks and structures. Covering the boat with a canvas or nylon cover is a great idea; shrink-wrapping the boat prior to placing it in storage provides excellent protection. 
As with in-water storage, inspecting the boat from time to time can ward off any potential damage issues before they can cause expensive headaches. 
Final Winterization Tips
There are several other valuable winterization tips to share with clients as they get their boats ready for the cold months. These include:
Thoroughly washing the boat prior to placing it in storage.

Replacing engine oil and filters with fresh supplies just before entering storage.

Gathering up loose deck items (fenders, rigging, etc.) and storing them in secure, dry locations before winter begins.

Fogging engine cylinders and carburetors with preservative oil products.

Stabilizing fuel with additives to prevent the formation of gummy residues. Alternatively, topping off tanks with fresh fuel may be suitable. 

Draining freshwater systems – some boat owners fill freshwater systems with non-toxic antifreeze solutions during storage. 
Finally, although marina insurance is designed to cover certain losses and damage to stored boats, it is vital that boat owners ensure their boating insurance is up to date and adequate in coverage for issues that may arise during winter. With great insurance and these winterization tips, your clients' boats will be ready to go when the warm weather returns. 
About Merrimac Marine Insurance
At Merrimac Marine, we are dedicated to providing insurance for the marine industry to protect your clients' business and assets. For more information about our products and programs, contact our specialists today at (800) 681-1998.