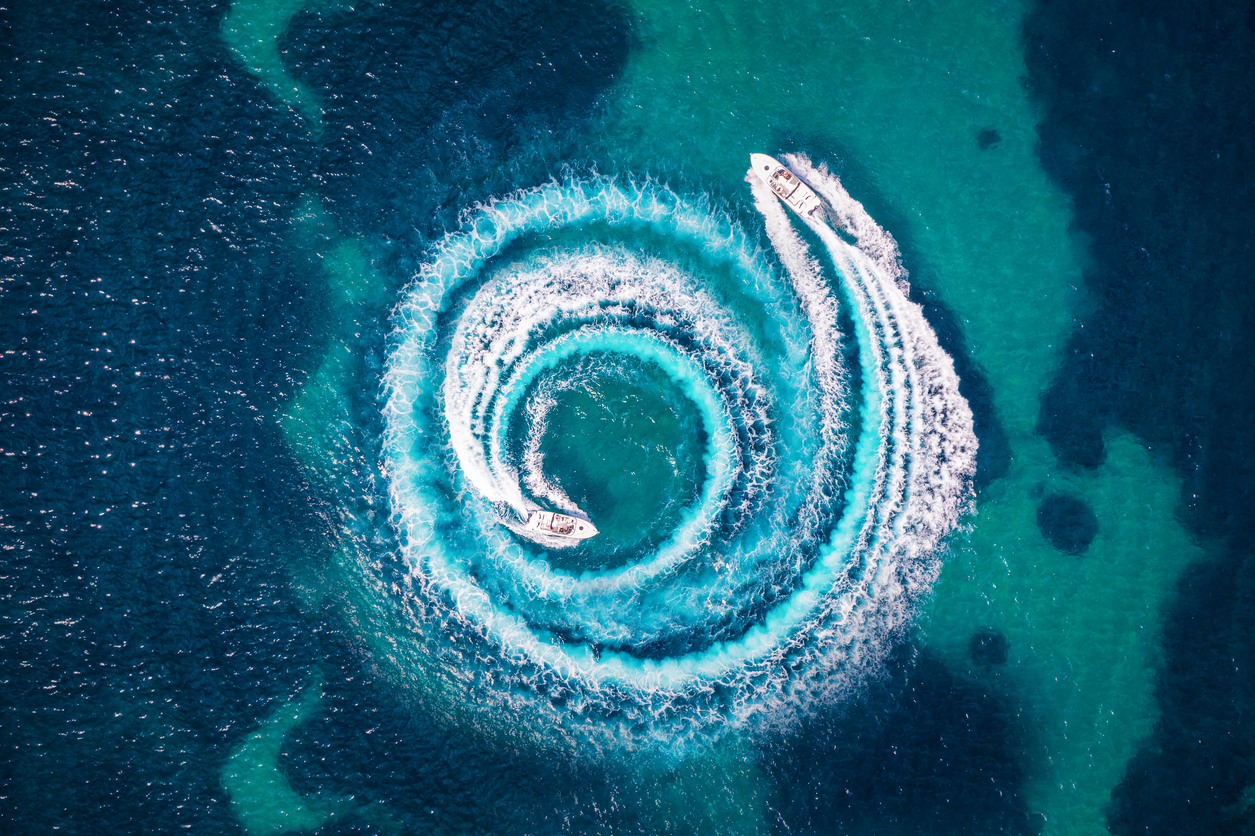 Marina owners around the country have many risks they must face in their daily operations. From safe marina practices to ensuring that vessels stored or fueled at marina facilities are kept seaworthy, marina owners have many responsibilities. The potential of damage caused by boat wakes is one risk that is commonly overlooked, however. While marina insurance is designed to cover many liability exposures in marina operations, understanding boat wakes and how to minimize their effects is a crucial risk management step. In this guide, we will provide all the details you need to know about boat wake damage liability.
What Are Boat Wakes?
In layman's terms, a boat wake is the set of waves or water disruptions produced by boats as they navigate. Generally, wakes are produced by the bow of a vessel and from its propulsion system. Wake height and intensity are dependent on several factors, including the shape of the vessel's hull, its powerplant, and the speed of travel. In certain conditions, boat wakes may be amplified by wind or wave activity, potentially causing sizeable waves that can damage or destroy other vessels and land-based structures like moorings or docks.
Potential Damage Caused by Boat Wakes
A boat's wake can be a destructive factor, and not only fellow vessels are at risk of damage or loss caused by them. Boat wakes have also been implicated in a wide range of potential destructive effects, including:
Damage to shorelines via erosion.
Swamping of non-powered vessels.
Harm to marine life and sensitive ecosystems.
Falls and overboard injuries.
Damage to protective seawalls and shore structures.
Dangerous swimming conditions in the vicinity of wake-producing boat traffic.
Boaters have an obligation to follow the "100-foot rule" of navigating under idle conditions within 100 feet of boating/ship channels, ports, marinas, and waterside structures. Failure to manage your boat's wake can cause severe damage and injury, not to mention the expenses associated with a wake-damage incident.
Boat Wake Liability
According to the Boat Owners Association of the United States (BoatUS), boat owners are liable for any damages caused by boat wakes. Liability for damages is independent of where the damage occurred; in no-wake zones or in open water, boat owners are on the hook if their wakes cause the damage or loss of another vessel or structure. Courts have ruled repeatedly under general maritime laws, including navigational rules and the so-called Inland Rule, holding boat owners/operators responsible. Anyone injured by a boat wake may be able to sue the vessel's operator for damages, and in some cases, creating a destructive boat wake can mean criminal charges.
What does this liability mean for marina owners? To protect boaters and their vessels against wake damage, many marinas implement restricted speeds or no-wake zones in the vicinity of the marina. Boats using the facility are most likely responsible for any damage caused by wakes. However, if for some reason that the boat owner is not found liable, the marina may be facing steep repair expenses, not to mention expensive insurance claims. Injured parties from boat wake incidents may file legal challenges against marinas. While such legal claims are rarely successful, defense of them by marina owners and managers can cost thousands of dollars. Marina insurance is designed to cover many liability exposures; it is a good idea to determine whether a marina insurance policy provides sufficient protection against boat wake damage or property loss.
About Merrimac Marine Insurance
At Merrimac Marine, we are dedicated to providing insurance for the marine industry to protect your clients' business and assets. For more information about our products and programs, contact our specialists today at (800) 681-1998.